Lamdon School is in Leh, the capital of Ladakh.  It was founded in 1973 to educate children beyond primary stage, and to preserve the Ladakhi cultural heritage.
Under the auspices of the Lamdon Social Welfare Society (an NGO established in 1970 by a group of young, dedicated Ladakhi's, with the main aim of promoting education and health) the school started in a rented building with just 12 pupils and one teacher.  The members of the society clearly foresaw education as the main tool for dispelling ignorance, as well as the preservation and enrichment of the cultural wealth of Ladakh.  They stressed the importance of learning their own Ladakhi language and culture, alongside the usual national curriculum subjects including mathematics, science, English, Hindi and social science.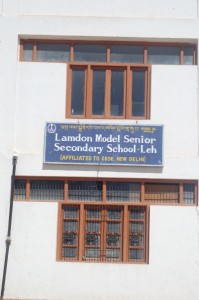 With the tireless efforts of the members of the Lamdon Society, the blessings of His Holiness the Dalai Lama, and the very welcome support of well-wishers, Lamdon School has now firmly established itself as the leading educational institution in Ladakh.
There are around 1200 children in the school in Leh, most of whom are Buddhist.  Many come from poor families and remote areas, a few are orphans.  Without external funding, some would have no chance of receiving a formal education after primary level.
Around 400 students have help with fees, and efforts are on-going to look for further donors to help those students who are in dire need of assistance to meet their educational expenses.
The school has two hostels for students to house children from remote areas; they return home from November to February, when the school is closed.  Lamdon serves an area that is so remote it is virtually cut off from the outside world during these months.  Children making their way back to their families can be faced with many days of walking in harsh conditions.
Aims and Objectives of Lamdon School
To provide quality education and equality to all
To preserve and promote the rich cultural heritage of Ladakh
To teach the Ladakhi language as a compulsory subject
To install good values in the minds of the children
To inculcate a sense of a responsible citizen
To teach the basics of Buddhism from the start
To provide free education to the children from poor families (by promotion of sponsorship)
To provide an education grounded in our own culture to lead a happy and prosperous life
Vision and Mission of Lamdon School
To eradicate evils from society by lighting the lamp of education, thus to have a fully content, happy and healthy society
To achieve our aims and objective
On one of her visits to Leh, Gail interviewed the Principal of the school and shot the video below.
In 2011, an edition of the BBC's The Human Planet showed the difficult and dangerous 6 day journey two of the children had to take to get to the school.  Whilst the children featured were not sponsored by Himalayan Children, those who are have similarly arduous journeys to the school.