This year our annual visit to Ladakh took place in early September to see the sponsored children, visit the schools they attend and meet some of the families, and also to meet a couple of new children who really need our assistance.
Joining me on this trip was Mary Allen, the retired principal of Taunton International Middle School.  Mary had previously visited Ladakh a few years ago and enjoyed it so much she wanted to revisit.
We were greeted to sunshine and heat on our arrival in Leh after a long journey with not such good flight times.  It was definitely warmer than usual with an intense heat and the bluest of skies.  After a hearty Ladakhi breakfast to help us acclimatise, we promptly retired to bed to rest.
I have to say it is just lovely to be back.  Each year, as I return to Ladakh I feel the same, and once I see the children, schools and families I am filled with complete joy – it is like coming home.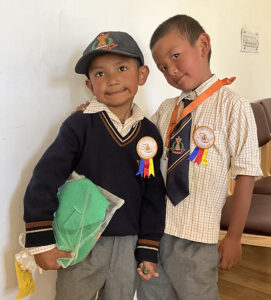 The children were all well, and again some are doing so well in school participating in the extra curriculum activities. Seeing them flourishing with ambition we felt like proud parents of so many children, especially as I have watched them progress over the years and to see them transition and how well the children do in the schools.
The impact of our support extends beyond just education; it touches every aspect of their lives and also has a positive effect on their families – It really does make a difference.
The sponsors gave small gifts and wrote letters of their news from their lives which the children love to read – there is a kind of united family connection across the globe.
One unique event we partly participated in during our visit was the Ladakh Marathon, an annual event and an epic marathon from the highest point Kardongla, it's a tough one! Needless to say, we opted for the 5K, which was tough enough with the high altitude and the heat, but it was fun to be involved.
Rinchen Dolkar, the retired Principal, continues to work tirelessly for Himalayan Children,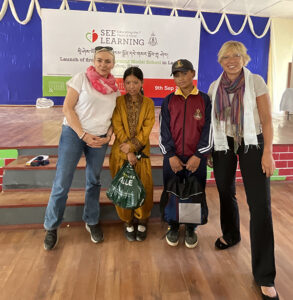 organised the parents to come with the children on a chosen day.  On this day we gave small gifts and letters from their sponsors, and they say a few words to their sponsor which we recorded and later sent to the sponsors. It is a special day, and we all enjoy meeting up again.
We visited several schools where we met with the children and with the principles which is always an honour, and the hospitality we receive is very kind. The schools visited on this trip were:
Druk Padma Karpo School,
Shey Lamdon,
Lamdon School,
Mahabourdhi School, and
Jamyang School.
This trip was 7 days, so it was full to the brim, but we managed to visit a couple of monasteries, which is always peaceful and I look forward to this time too.
We also made the Ladakh Bullion News for Himalayan Children's continued work for the children of Ladakh, and for presenting a signed cricket shirt from Jos Buttler to two members of the Shelkhar Cricket Club, with Honourable CEC Tashi Gyaltson, which was very much appreciated and will take pride of place in a frame on the wall of the Club.
I also met with Eshey Tondup, who was the long-time Principle of Lamdon School un Leh. Eshey is doing some great works with the Ladakh Ecological Development Group providing support to locals in many different fields including modern handicraft training and local food processing techniques. It was good to hear of all the projects.
We had a good productive trip, and I will look forward to our next trip in 2024.
I would like to add that all trips are self-funded by myself, and our Charity still prides itself on bank charges being our only expense.
Thank you to all who support Himalayan Children – it is not possible to make a difference without your support.