Visit April 2015
This 10 day trip was mainly to visit families again and find new children who need our help with their education. I arrived to a temperature of 1º, but it warmed up when sun came out.
It is always good to return and see the families and children we sponsor, although as they are scattered all over Ladakh it can take some time to see them all! Some are not accessible so they try to make it to me in Leh.
I collected school receipts from the cheques issued in my September 2014 trip, which again can take some time as some families are very organised and some are not.
I do bring some small gifts, but they have to be small as luggage space is limited on the internal flight to Leh. The ladies of the Taunton Inner Wheel gave some gifts of pencils, cases, pads etc which I gave to the two children they support.
I took some loom bands and the children love those, making endless bracelets.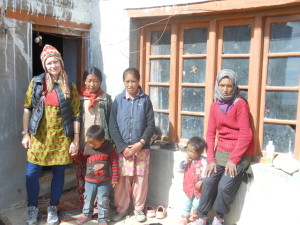 It is always tough to decide who is the most worthy for our help with education fees, as each family has different reasons. I struggle each time and wish for an endless pot of money to help all, but we have great supporters for all our fundraising events and generous donators and sponsors too.
If you would like to sponsor a child, why not save £1.50 a day in a jar and you too could sponsor a child and have a great sense of helping a family less fortunate and helping a child to have a promising full future.