My experience in Ladakh visiting schools and children for Himalayan Children showed me the importance of the work the Charity does, and the happiness of the children.  It was lovely to see the bond that Gail has with the families – it was very special.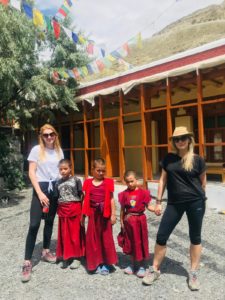 With Gail and some of the children sponsored by the Charity
I have known about the children over the last few years, but meeting them I was able to see exactly how well they are doing in their education.  It was a great privilege to be accepted an invited into their homes.  During the visit, I was also aware of the importance of the connection between the families and their sponsors – writing letters and having photographs brings them closer together.  I could see how hard life could be there in the winter, especially in the remote areas.
Overall, I think that Himalayan Children is doing such an amazing job to support children and their education.
Casey